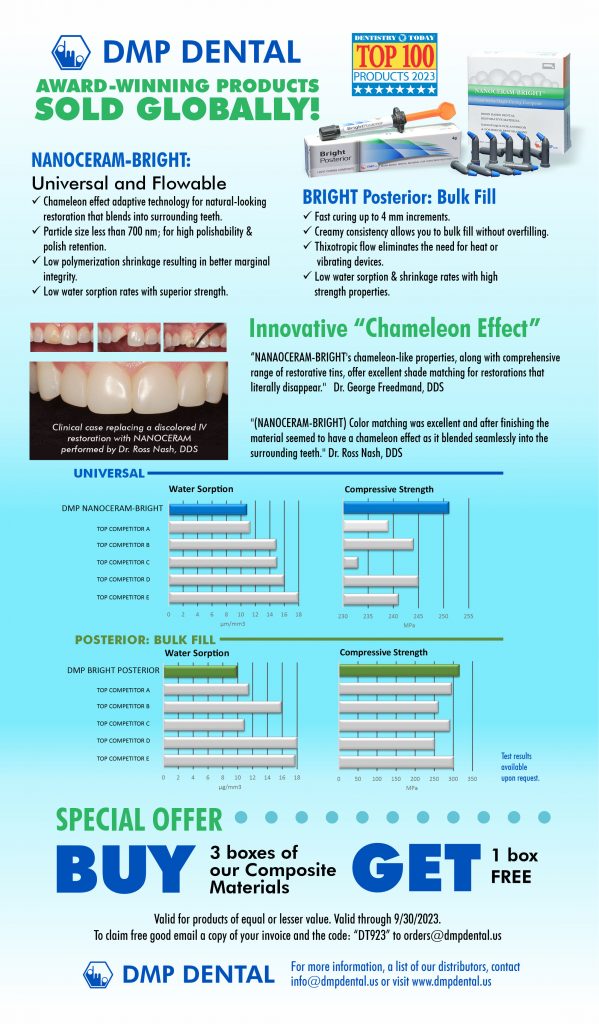 DMP DENTAL AWARD-WINNING PRODUCTS SOLD GLOBALLY!
NANOCERAM-BRIGHT: Universal and Flowable
Chameleon effect adaptive technology for natural-looking restoration that blends into surrounding teeth.
Particle size less than 700 nm; for high polishability & polish retention.
Low polymerization shrinkage resulting in better marginal integrity.
Low water sorption rates with superior strength.
BRIGHT Posterior: Bulk Fill
Fast curing up to 4 mm increments.
Creamy consistency allows you to bulk fill without overfilling.
Thixotropic flow eliminates the need for heat or vibrating devices.
Low water sorption & shrinkage rates with high strength properties.
Innovative "Chameleon Effect"
"NANAOCERAM-BRIGHT's chameleon-like properties, along with comprehensive range of restorative tins, offer excellent shade matching for restorations that literally disappear." Dr. George Freedmand, DDS
"(NANOCERAM-BRIGHT) Color matching was excellent and after finishing the material seemed to have a chameleon effect as it blended seamlessly into the surrounding teeth." Dr. Ross Nash, DDS
SPECIAL OFFER:
BUY 3, GET 1 OF EQUAL OR LESSER VALUE:
Buy 3 boxes 3 boxes of our Composite Materials
Get 1 Box FREE (or Mix and Match!)
Valid for products of equal or lesser value. Valid through 9/30/2023.
To claim free good email a copy of your invoice and the code: "DT923w" to orders@dmpdental.us
**See our ad in August's DENTISTRY TODAY!
Like Us & Share on Facebook for Exclusive Offers!
https://www.facebook.com/DMPdentalUS